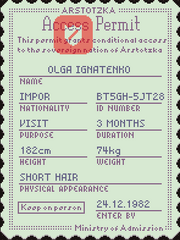 An
Access Permit
is a
document
required from
foreign visitors, workers and transients
since
day 27
. It replaces the
entry permit
and
identity supplement
.
The Ministry of Admission switched the documentation "for efficiency" as stated by the Bulletin given on day 27, and the inspector expressing (on day 28) that it makes his job easier.
Descriptions
Edit
Access permits and identity supplements contain a description of entrants' looks. If the description does not match entrant's appearance, the discrepancy must be cleared before allowing entry.
Ad blocker interference detected!
Wikia is a free-to-use site that makes money from advertising. We have a modified experience for viewers using ad blockers

Wikia is not accessible if you've made further modifications. Remove the custom ad blocker rule(s) and the page will load as expected.