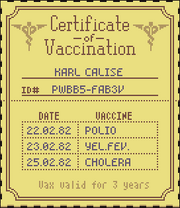 A Certificate of Vaccination is a document required from all entrants since day 26 after a polio outbreak in the United Federation starts spreading on day 25.
Entrant's name - a discrepancy here requires a fingerprint test to clear or allow detention
Up-to-date polio vaccination – polio needs to be listed in the certificate and the vaccination must be valid. A vaccine expires if it is older than three years compared to the in-game date. An expired vaccination is pointed out by highlighting the date in the booth and the date on the certificate. Either of these discrepancies requires a denial.
Possible vaccines
Edit
A certificate of vaccination can list up to three vaccines out of eleven possibilities. The links point to Wikipedia.
Ad blocker interference detected!
Wikia is a free-to-use site that makes money from advertising. We have a modified experience for viewers using ad blockers

Wikia is not accessible if you've made further modifications. Remove the custom ad blocker rule(s) and the page will load as expected.