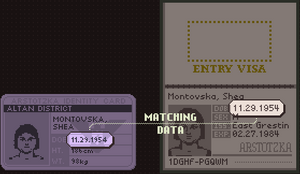 The 
date of birth
(DOB) of an
entrant
is found on 
passports
, 
identity cards
, and 
grants of asylum
. If an entrant provides two
documents
containing their date of birth, they must be verified for a possible 
discrepancy
. If a discrepancy is found, the entrant cannot clear the dispcepancy and to avoid a citation inspector must either deny or detain the entrant.
They will only be incorrect either by only one digit or completely.