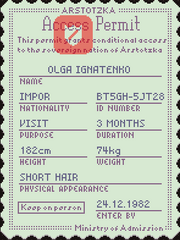 The
identity number
 or 
passport (serial)
is a number that identifies an
entrant
and the
passport
issued to them. It must be
consistent
on each
document
they are carrying.
This number is present on every document issued by the Ministry of Admission; as well as the Diplomatic Authorization.
Notably, it is not present on the Arstotzkan ID card.
Ad blocker interference detected!
Wikia is a free-to-use site that makes money from advertising. We have a modified experience for viewers using ad blockers

Wikia is not accessible if you've made further modifications. Remove the custom ad blocker rule(s) and the page will load as expected.