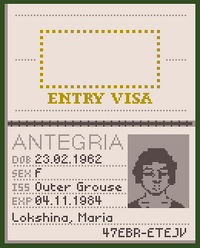 This page lists removed and used names in the game files. For the type of document information, see Names.
The game generates names for entrants by choosing or combining them from five premade lists of names, which were put together from over 27,000 names submitted online. There are two lists for first names, one for male and another for female entrants. A name drawn from one of them is combined with a last name from a separate list. There are also two lists of full names, one for females, one for males.
Some of the names in the release version were removed later. See the section below for a list of names that do not appear in versions 1.0.34 and later.
Removed names
Edit
The release version (1.0.33) of Papers, Please contained several names that were later removed. Before the initial release, people could submit their information to the developer online to have their name appear in the game. Some of the submissions contained copyrighted character names, names of celebrities, and names that were otherwise seen as inappropriate and were removed in versions 1.0.34, 1.0.35, 1.0.38, 1.0.41 and 1.1.60.
Celebrities, public figures
Edit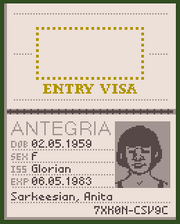 Faye Hunter - bass player in Let's Active
Imran Khan - Indian actor or Pakistani politician
Misha Krug - resembles Mikhail Krug, a deceased Russian singer
Czeslaw Milosz - Polish Nobel prize winner for literature
Nana Mizuki - Japanese singer and songwriter
Nikita Nipone - Argentinian singer
Viktor Orban - the prime minister of Hungary
Anita Sarkeesian - Canadian-American feminist, media critic and blogger
Michelle Schumacher - American actress, wife of J.K. Simmons
Andrew Watson - British Guianese football player or Canadian politician
Copyrighted names
Edit
Eric Weiss - a field agent from Alias
Anna Dewiit - resembles Anna DeWitt from BioShock
Brigid Tenenbaum - from BioShock
Lenina Crowne - a hatchery worker in Brave New World
Katerina Ivanova - resembles Katerina Ivanovna from The Brothers Karamazov by Dostoyevsky
Lena Golovach - from F 63.9 Maladie d'amour
Muki Hatsune - resembles Hatsune Miku, a synthesizer application by Crypton Future Media
Rin Katawa - resembles Rin Tezuka from Katawa Shoujo
Jebediah Kerman - a kerbonaut from Kerbal Space Program
Tristy Yordleva - resembles Tristana, a champion in League of Legends whose race is Yordle
Nidalee Hecar - combination of Nidalee and Hecarim, champions in League of Legends
Jane Shepard - default name for a new female character in Mass Effect
Nastasha Romanenko - a Ukrainian weapons analyst from Metal Gear
Olga Gurlukovna - resembles Olga Gurlukovich from Metal Gear
Eridan Ampora - from MS Paint Adventures/HomeStuck
Kanaya Maryam - from MS Paint Adventures/HomeStuck
Aradiga Medigo - similar to Aradia Megido from MS Paint Adventures/HomeStuck
Terezi Pyrope - from MS Paint Adventures/HomeStuck
Aranea Serket - from MS Paint Adventures/HomeStuck
Miwako Sakurada - from Paradise Kiss
Maya Amano - from Megami Tensei franchise
Feta Salakys - resembles Salakis, a goat cheese and feta brand sold in Europe
Quan Ur - race in Star Control
Seyrah Kerrigan - resembles Sarah Kerrigan from Starcraft
Makise Kurisu - from Steins;Gate
Vladimir Taltos - resembles Vlad Taltos, an assassin in the novels by Steven Brust
Sockston Hales - resembles Saxton Hale (and Sackston Hale achievement) from Team Fortress 2
Suwako Moriya - from the Touhou Project
Tokiko Lorelei - a combination of Tokiko and Mystia Lorelei from Touhou project
Kira Argounova - the fictional protagonist in Ayn Rand's anticommunist book We The Living
Other removed names
Edit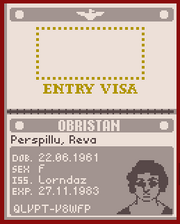 Ripuli Paskana - 'fucked up diarrhoea' in Finnish
Reva Perspillu - 'cunt arsepussy' in Finnish
Kurwa Mudakinska - kurwa is a Polish slur against sex workers. In Russian, the word mudak is roughly equivalent to 'asshole' or 'dickhead'.
Andela Bullox - the last name is pronounced like bollocks. The name is also similar to Angela Bullox, a Canadian-born artist.
Marwana Sigarits - pronounced like marijuana cigarettes
Anna Fender - pronounced like an offender
Jorge Nitales - if mispronounced terribly, sounds like your genitals. Additionally, the "ge" in "Jorge" and the surname together form the word "genitales", which is the Spanish for 'Genitals'.
Ivan Chesnokov - a poster or a troll on various firearms forums
Rulon Oboev - a parody name of a Chechen terrorist in Russian. Literally 'bolt of wallpaper.'
Janusz Pavulon - derogatory name for Pope John Paul II (Polish: Jan Paweł II); may also be a reference to a 2002 scandal in Poland, where ambulance crews have been found to murder patients with the drug Pavulon in exchange for bribes from funeral facilities.
Wilma Fickena - German word ficken means 'fuck' in English, also pronounced like "Will mal ficken", literally meaning 'I want to fuck'.
Ahmed Skovorodka - an Arabic male first name paired with a Slavic female form of last name.
Pamela Chu - when written surname first, becomes chúpamela, Spanish for 'blow me'.
Golovach Lena - a wordplay in Russian, similar to 'I.M. Wiener'.
Timina Govovna
Oscar Hilton
Veniamin Lenetska
Alma Marcela - near to al mamársela, nonsensical Spanish similar to 'when sucking one's own' but with no clear object
Svyatoslav Omaroviya
Yuksel Karatatar
Shalava Kancialina - both Russian: the first name is a slur for sex workers; the second, 'cum' 
Full names in 1.1.60
Edit
In alphabetical order by the first name. Hit CTRL + F (command + F on Mac) to search.
Full female names
Full male names

Abbey Lykiv
Abbski Pariunell
Acadow Koys
Ada Somer
Adel Boteskin
Adliet Plizga
Adrian Eiffe
Adrian Gutierrez
Adriana Bielz
Adriana Marin
Adriana Nochvenda
Aeryn Emrys
Agnes Jaworska
Ahova Dimanishki
Aino Mikkonen
Akaky Akakievich – reference to Akaky Akakievich Bashmachkin, a character in The Overcoat by Gogol.
Ake Dajanovna
Alana Cizadlo
Alberta Damasio
Alberta Iordache
Aleks Tchoub
Aleksandra Gruda
Aleksandra Lyapunova
Aleksandra Orlova
Aleksandra Tovska
Alena Bokaryova
Alena Mullee
Alesia Johansson
Alessandra Rosa
Alessia Sanna
Alex Drury
Alex Elenui
Alexa Delinges
Alexa Kafkovna
Alexa Mellegard
Alexa Reaska
Alexa Steiner
Alexandora Maroshka
Alexandra Azakir
Alexandra Fordesca
Alexandra Haracz
Alexandra Kovacs
Alexandra Leonova
Alexandra Loguvska
Alexandra Lovska
Alexandra Michaleson
Alexandra Moukhina
Alexandra Nikolaeva
Alexandra Paven
Alexandra Pilzner
Alexandra Rose
Alexandra Stockhina
Alexandra Stolichnaya
Alexandra Terpovska
Alexandra Vernyska
Alexandria Ilyasova
Alexandria Shammas
Alexandria Tsaratova
Alexei Lesaewnova
Alexei Medici
Alexei Othenin
Alexei Reid
Alexi Baryshnikova
Alexi Gonzeli
Alexi Rosebrova
Alexia Lane
Alexie Stroud
Alexis Cargilliano
Alexis Kushberg
Alexis Levine
Alexis Teholiz
Ali Madrid
Alia Mozayovska
Alicia Roxas
Alicia Vizcaino
Alina Garcia
Alina Kuchumova
Alina Kurdatseva
Alisa Valkero
Alise Gratsuna
Alishea Hazen
Alivia Lerebska
Aliya Satova
Allison Keene
Alma Emilie
Almendra Tamariz
Alondra Vakowska
Aloya Fernandovna
Alysia Stinson
Alyssa Buchanan
Alyssa Crechiolo
Amabel Caba
Amalie Fredheim
Amalie Vistoft
Amanda Devria
Amanda Sagasti
Amelaka Palanaar
Amelia Li
Ami Petrova
Amilia Groezinger
Amiya Andrevska
Amrei Seidl
Ana Calisto
Ana Mativi
Ana Romeo
Ana Vereno
Ana Zibertovska
Anastas Golubinska
Anastasia Dabrovna
Anastasia Storva
Andrea Arlovska
Andrea Delforge
Andrea Hussie
Andrea Lindovna
Andrea Lovoska
Andrea Sanke
Andrea Sudkova
Andrea Svellerova
Andrea Torvoska
Andrea Waller
Andrea Wardinez
Andrella Sradesteka
Andriavic Phaminova
Andrina Solodova
Angela Agbayani
Angela Costa
Angelina Robovska
Anika Shevchenko
Anita Czekowicz
Anita Petrotska
Anita Ravinska
Anna Bialkowska
Anna Bjerken
Anna Carey
Anna Chulkova
Anna Ditovska
Anna Franger
Anna Freydenzon
Anna Grodzkavska
Anna Guelfi
Anna Hansson
Anna Kaminska
Anna Kovacova
Anna Lovanska
Anna Massenovska
Anna Nowak
Anna Palaka
Anna Panton
Anna Ranzovska
Anna Roperseva
Anna Skodova
Anna Tronska
Annadia Blukvanos
Anne Glines
Anne Laplantine
Anne Nahnumus
Anneli Dorovska
Anneslav Linnotska
Anni Lukkonen
Annie Banttari
Annika Briloska
Annika Thomska
Antonia Hazel
Antonia Islakova
Antonia Licata
Anucha Rochovska
Anya Aurorska
Anya Peonova
Anya Peresipkina
Anya Sokolow
Aoh Miseon
Arbo'Ja Oliveira'Va
Arevir Ortiz
Ari Beusmans
Aria Meidani
Aria Valkensyr
Ariel Taylor
Ariev Corchova
Arina Aleksander
Arkady Gregorvich
Arkestra Veldrovska
Arnia Rosovna
Artica Shrake
Arun Bradlen
Ash Keishamei
Ashia Bakerb
Ashleeyna Clowovska
Ashley Franco
Ashley Surridge
Atinla Rideh
Audrey Garric
Audrey Labotska
August Toman
Augusta Sovig
Augustia Azzameen
Augustine Bautra
Augustine Reed
Aurora Strachan
Austnia Tilctnova
Ava Milovna
Aza Hudsonska
Azana Klakouska
Bara Hroudova
Barbara Ruben
Beatrice Jokav
Beatrix Hess
Bela Lichando
Bele Grandir
Bernadett Volanky
Bettina Meier
Bo Vanderlugt
Bogdana Krivenko
Borla Grizhenko
Brenna Reidovska
Brianka Mccabowicz
Brianna Kerbloskivich
Bridget Ober
Brina Kaskovna
Brydon Zahn
Burak Yolacanova
Cait Longstrova
Calista Garden
Cameron Berko
Cameron Switzer
Cara Elinovska
Carlota Zopenko
Carman Lam
Carmen Mihaila
Carolina Cardoso
Caroline Barnard
Caroline Fedoruk
Caroline Peixoto
Carolyn Kershner
Carolyn Klassen
Cassandra Ramovska
Cassandra Romano
Cayenne Rusko
Cecelia Fortovska
Celine Song
Chalenne Delendorf
Chance Grantova
Chane Luska
Charell Jablonska
Charlyn Garcia
Chelesa Washington
Cherkova Balenska
Cheyenne Morgan
Chriseon Tanzares
Christina Oden
Christina Promovska
Christine Johannsen
Cinthia Taksami
Claire Guang
Claudia Kazinska
Colma Savelle
Constance Dunkova
Corentin Delkova
Cosette Norivska
Courtney Delormie
Czartina Arkowska
Dahsar Sirrahska
Damia Maurovska
Dania Al-Rekabi
Daniela Botnari
Daniela Larenovka
Daniela Macek
Daniela Maeki
Daniela Maxwell
Daniela Michael
Daniela Praskovic
Daniele Websteris
Danielle Carterovksi
Danielle Elfrank
Danika Rusakova
Danka Izsakova
Daria Kaczynska
Daria Krivonos
Daruni Samsa
Dasha Shmeleva
Daynev Keefe
Demitra Haralson
Denise Kogel
Diana Stajduhar
Dijana Gromova
Dima Shumskaya
Dinadea Laprovska
Dinare Darman
Dirima Rosales
Djur Ferendin
Dorothy Szymanska
Dosadna Bivas
Dusana Mandic
Dzhanin Matz
Edine Boulelimat
Edlinva Davenetska
Efi Thodiska
Efrosinia Losova
Ekaterina Grenbriova
Ekaterina Kalina
Ekaterina Lubovna
Ekemi Montiel
Elanor Technetos
Eleanor Dromovska
Eleanor Kajonia
Eleanor Ochakovska
Eleina Ibrahim
Elena Baransova
Elena Jonescu
Elena Markic
Elena Romanovska
Elfarra Ribeiro
Eliana Hyatt
Elin Griffiths
Elin Hammarstedt
Elisabeth Kleven
Elisia Lindberg
Eliza Henriksson
Eliza Kasprzycka
Elizabet Norteska
Elizabeth Olenyatko
Elizabeth Parsels
Elizabeth Zacharek
Elke Rischert
Ella Viital
Elle Miles
Ellen Hallovska
Ellen Willonova
Ellen Zhanovna
Ellie Blossom
Ellody Chandlers
Eloise Stons
Ema Nymton
Emilee Pangan
Emili Skinzinova
Emily Banovska
Emily Greidanus
Emily Mendoza
Emily Slache
Emily Yosifova
Emlyn Friman
Emma Blomver
Emma Frederiksen
Emma Murray
Emma Patrovska
Emma Pernudi
Emma Trulenska
Emma Uhlmann
Enya Kabat
Erika Dosovska
Erika Fortin
Erika Marchevic
Erika Ottosova
Erika Uvilia
Erika Zulveonoska
Erikha Kefenova
Erin Kahm
Erin Laius
Erin Murasovska
Erin Snelgrove
Erina Karachenko
Erina Koslovska
Ermina Karovic
Esmeralda Coijmans
Estra Beresfoda
Eva Benjes
Eva Hanel
Eva Koroska
Eva Yesilkova
Eva-Franziska Steen
Evangeline Troyer
Eve Hill
Evelyan Drostke
Evelyn Minska
Evelynn Mavoska
Faith Skirvoska
Farah Suhaila
Fayleen Challoner
Felicia Loef
Filipa Wyatkin
Florana Sariniak
Floria Decupper
Fran Inabavska
Francesca Rokivzet
Fredricka Ronzin
Freja Radetzky
Frenni Govard
Frey Pelzner
Frey Seva
Gabriela Minjarovska
Gabriela Petrova
Gabriela Rubira
Gabriela Sauretska
Gabriela Teles
Gabrielle Blyss
Gabrielle Geldart
Gabrielle Haapala
Gabrielle Sohova
Gal Makower
Galen Wilson
Galina Belenska
Galina Cucinova
Garina Leunovska
Geneva Boling
Georgia Cienfueska
Georgia Novak
Geraldine Franchevska
Gianluca Tidona
Gianna Antonucci
Ginely Herrera
Giosel Lauvosk
Glenda Vogt
Gloria Yipovska
Godiva Korin
Goga Lovrencic
Goncalina Lopes
Grega Fisk
Greta Sidorovna
Greta Silvovska
Grishka Belovi
Groza Readova
Gryfka Weston
Gwendolynn Amsbury
Hahkobo Hwinskivak
Halena Aitmani
Halhar Infigar – possibly a reference to Har-Har Infigar from Magi
Hali Liu
Hana Hedrickson
Hana Rystaw
Hanka Leikjorovska
Hanna Skubis
Hanna Tsarnaeva
Hanna Vikenstok
Hanna Walton
Hannah Colevska
Hannah Gardener
Hannah Hagin
Hansa Pribeshka
Harret Jalek
Hayden Gasol
Heather Estill
Heather Rodnevich
Heidi Borshiki
Helen Cronovna
Helen Percin
Helena Czerbika
Helena Jakobi
Helga Bellic
Helga Klavenes
Helga Tilovna
Henrietta Lock
Henrietta Lubova
Hernakia Aminyeva
Hidole Fiviska
Hypatia Kutrosovna
Ignat Keremova
Illana Sevieska
Ilonia Rez
Ilya Kasnacheeva
Ilya Latynin
Indra Prior
Inese Berezova
Inessa Kuznetsova
Inga Vitkauskaite
Ingrid Chesnokova
Ingrid Steinbach
Iosifa Beltranova
Iozefin Malmchikova
Irena Baskovna
Irena Lichtenzweig
Irene Mafinova
Irina Marakova
Irina Romanoff
Irina Vidanska
Irma Dutorovska
Isabel Roden
Isabella Brubaker
Isabella Timbrell
Isareal Thisa
Ishmara Nubenitz
Issabel Sperovska
Ivana Bogost
Ivana Dobska
Ivana Krucova
Ivana Lauer
Ivana Lazarova
Ivana Rezic
Ivana Wilsoska
Ivanna Stroganova
Iveta Stefanova
Izabella Corkum
Jacqueline Kernel
Jacy Ledovskaya
Jakira Plutentovska
Jalice Bookar
Jaman Tsamaneel
Jamila Barentova
Jan Hamson
Jan Link
Jan Spektor
Jana Tonoska
Jane Greschner
Jane Moriarty
Jane Parkovna
Janel Solvich
Janelle Zhiyun
Janeral Pai
Janet Elsee
Jani Sajarvi
Janice Thomassie
Janna Korhonen
Janne Ari
Jaqueline Hyde
Jaquline Hassan
Jasia Machelak
Jasten Oronenko
Jaun Flammar
Jeanah Reinecker
Jeanne Uberoska
Jenis Larkin
Jennifer Cranova
Jennifer Leizerovna
Jennifer Matsas
Jensa Mullezki
Jermina Tudiscova
Jesika Punzalan
Jessica Aureus
Jessica Barreto
Jessica Dahl
Jessica Rozdvoyka
Jessica Terris
Jessica Windt
Jessikah Rivenska
Jiahui Shemovsk
Jitka Horavova
Joa Marc
Joakim Carlstrom
Joana Ihlo
Joanna Ororuk
Johanna Louwagie
Johanna Salayeva
Johanna Swebilius
Joita Ehrnstrom
Jona Lottovska
Jona Prins
Joni Crocker
Josefina Kayovna
Josefina Palfrez
Josefine Holmberg
Josephine Dervan
Josephine Edward
Josephine Nario
Josephine Selman
Josie Bonnard
Jovana Apostolovska
Jovana Sikimic
Jozefina Yukrinat
Jozlyn Heine
Julia Bernard
Julia Fouchier
Julia Ivanova
Julia Maksymowicz
Julia Nienaber
Juliana Terenteva
Julie Henviska
Juliette Brun
Juri Yunovska
Justina Crag
Justina Uhac
Kacey Beckwith
Kadamonya Teofisova
Kael Gray
Kaitlin Travinska
Kalen Herszova
Kamala Mraz
Kamilia Obreva
Kamya Vilsonoff
Kana Hwang
Kandre Dohovska
Kanette Marie
Karadzicie Ljutanova
Kari Teroska
Karin Azolas
Karin Rybaks
Karina Averbukh
Karina Guerra
Karina Gulieva
Karina Lopez
Karina Wong
Karla Tynan
Karol Cyacho
Karolina Karczok
Kascha Yazzik
Kasey Thompson
Kassidy Cattin
Kata Kowalska
Katarina Bolotnikova
Katarina Machiavelli
Katarina Nadjkovic
Katarina Perigovna
Katarina Radovska
Katerina Hieronimus
Katerina Ivanovna
Katerina Nilovna
Katerina Ryndin
Katherine Blovska
Katherine Guest
Katherine Marsovska
Katherine Ponovska
Katherine Rivera
Katia Coslovoska
Katka Pridavkova
Katrien Vandes
Katrina Chevoska
Katrina Clark
Katrina Donner
Katrina Saxton
Katrina Tarkinska
Katya Hussong
Katyusha Petrova
Kayue Yam
Keala Asatova
Kein Enjolm
Keira Smith
Keira Tetley
Kel Grotska
Kelli Pagliarok
Kelsey Sidwelska
Kem Mariovska
Kendall Conley
Kentina Groshenska
Kerene Teovska
Khinra Kraigieva
Khloe Gartner
Kierana Kommons
Kim Biebaut
Kim Heesu
Kimenov Randston
Kitiara Ratska
Klaudia Slindet
Kodi Dreviska
Kornelia Wysocka
Kouvia Mortan
Kristen Timeska
Kristiina Lang
Kristiina Pitkanova
Kristina Perez
Kristina Tomaseva
Kristopher Livinusk
Kristyna Petroviz
Kumi Shida
Lada Kazimer
Ladna Sulaska
Laika Kruscheva
Lajana Nivu
Laura Anderson
Laura Baker
Laura Ballantyne
Laura Blumovska
Laura Fedoruk
Laura Magovska
Laura Montayska
Lauren Claus
Lauren Prusinska
Lauren Stout
Lauren Tribdino
Lauren Wanner
Laurens Doddmann
Laurin Brewer
Layl Conway
Lea Elsonova
Lea Moraczewska
Leah Haasenkirova
Leemon Goldensk
Leena Ojaskovna
Leganda Woalka
Leila Verbeek
Leilani Ganser
Lela Gajic
Lena Beretszki
Lena Kariska
Leona Khiwi
Lia Maestrelli
Lidia Salgueiro
Lidia Wysocka
Lili Jozsa-Horvath
Lili Nasser
Lilian Og
Liliana Aguilar
Liliana Genete
Liliana Petrevosk
Liliana Roncal
Liliya Hokinska
Lillian Arata
Lillian Lao
Lina Dieck
Linnea Mathieska
Linnea Stake
Lisa Joovska
Lisa Novoska
Lisa Torbjornova
Livia Gesbreska
Liyang Diao
Lizette Svard
Logan Teel
Lois Hyattevich
Lora Marinosh
Loren Hoskin
Loren Kiyalva
Lorenavic Gruzinska
Lorenna Velovan
Lotka Polozova
Lotte Ritter
Loura Covska
Luba Krichenko
Luca Hibbarcurto
Luchiya Cifukova
Lucianna Vargas
Lucka Blahova
Luka Satherjic
Luka Wagner
Lulu Zhao
Lumina Tuirvoska
Lunadea Markova
Lustroyka Asimova
Lydia Frances
Lydia Lubovna
Lydia Zubrynska
Lynda Moldavich
Lynne Rosenberg
Lyra Lei
Madeline Belovska
Madelyn Natzke
Maira Antonovna
Maisie Yang
Mala Morris
Malva Dahlqvist
Malvina Zewska
Manuela Raoz
Mara Drakovna
Mara Hall
Marcelina Makowska
Marcella Santos
Marcie Lenith
Margit Reinitz
Mari Deluria
Mari Hlinak
Maria Bakerova
Maria Costanzo
Maria Dejon
Maria Fries
Maria Grozinska
Maria Hofmanik
Maria Khan
Maria Koshkina
Maria Leka
Maria Likowska
Maria Lokshina
Maria Ludakova
Maria Maja
Maria Popescu
Maria Sirvent
Maria Vanko
Maria Ventresca
Marian Enne
Marian Fillier
Marian Loviska
Marichka Roritchevska
Marie Pouchot
Marie Vanesh
Marieta Wogawa
Marija Ferenc
Marilena Reutzel
Marilyn Henein
Marina Capher
Marina Streltsova
Marina Tokareva
Marion Palovska
Mariska Zonveld
Mariya Parkova
Mariyalin Ikion
Marleen Maars
Marlene Goetz
Marli Fikse
Marsha Alexandria
Marta Kerichko
Martha Borufkin
Martha Vasilauskis
Martina Danilova
Martina Larriera
Martina Placheki
Martina Rolmatanova
Martinez Panacko
Mary Balilyan
Mary Boswovna
Maryana Koh
Masha Kotsurek
Masha Wirzovska
Matilda Wagner
Matilde Jakobsen
Matiza Fachenska
Mavienne Heigen
Maxime Boender
Maxina Krauz
Maya Camvoiska
Medusa Gabazova
Megan Pestrova
Megvan Mahovska
Melina Aguayo
Melissa Meza
Merel Heagen
Meriam Slatova
Meryl Paulska
Mia Karltomazk
Micah Arends
Micha Selimova
Michaela Desjardins
Michaela Musilova
Michaela Sokol
Miche Laskey
Miche Wingorvisk
Michela Bulovska
Michele Boniscavage
Michelle Kochovska
Michelle Pougnou
Mihaela Olsen
Miia Ahonen
Mika Kindstrand
Mikaela Jonovna
Mikaela Lindahl
Mikaela Nunovyeva
Mikela Baclovna
Mikhaila Kirova
Mikhaila Seimonova
Milena Alavod
Milena Berk
Milica Vukovic
Milka Mitevska
Mina Frivorska
Mina Stavezska
Minerva Sdenska
Minna Hiltula
Minna Tuisku
Minna Vastola
Minova Shavska
Mira Levandovic
Miranda Werner
Miranda Zhavchenko
Mirel Kemostova
Miria Zerbalieva
Misac Tiba
Misha Piotrowska
Misha Risa
Misha Stravosken
Mishal Ahmed
Mondinika Ferovic
Montserrat Bofi
Mushine Turkazkii
Nabi Fujisawa
Nada Ki
Nada Tosinovic
Nadejda Lysova
Naderina Meradji
Nadezhda Zeif
Nadia Mahonova
Nadia Petrova
Nadia Robovska
Nadja Miceli
Nadya Ulyanova
Nairia Narovska
Naisha Belka
Nancie Cherenikova
Nanne Koo
Naomi Lewis
Naomi Shostakovna
Naomi Sokolova
Naomi Taliavska
Naomi Wazouska
Naseera Alkhour
Nastasya Shevchuck
Natalia Autins
Natalia Borzih
Natalia Dombrowska
Natalia Katlovska
Natalia Kodianova
Natalia Makhno
Natalia Osbineva
Natalia Romanova – Black Widow in various works published by Marvel Comics
Natalia Wilskovna
Natalia Zadniychenko
Natalie Behmovska
Natalie Rayuv
Natalie Sindall
Natalya Nichovska
Natalya Smirnova
Natanya Winchova
Natascha Fatuko
Natasha Crichton
Natasha Re'Vera
Natasha Senalova
Natasha Senokova
Natasha Sidrova
Natasha Skevoska
Natasya Storavska
Natja Zafostnik
Natra Sullivan
Nickole Novecoska
Nicola Catena
Nicola Danovska
Nicola Sonkiro
Nicole Armer
Nicole Beal
Nicole Bubowska
Nicole Chen
Nicole Doroshska
Nicole Enslow
Nicole Garova
Nicole Midska
Nicoletta Mirescu
Nikita Boyko
Nikita Kazantseva
Nikita Ramsdinska
Nikita Shulginovska
Nikita Sokolova
Nikita Westrova
Nikola Avalos
Nikola Bevich
Nikola Kolinska
Nikola Losprodova
Nikola Patronova
Nikole Giannou
Nills Clavsson
Nina Zirjanowa
Nita Parmar
Niveka Diaz
Noelle Soraya
Nonia Bello
Nora Henrigovska
Norah Brinnovska
Norah Kobleska
Norma Tarnoff
Novareta Luget
Nyshan Koreanzer
Ola Fridovska
Olga Bruscht
Olga Dostroivska
Olga Grebens
Olga Guintchitskaia
Olga Ignatenko
Olga Lessovska
Olga Mutanen
Olga Romanova
Olga Rumantseva
Olga Shevchenko
Olga Struzan
Olga Tychinskaya
Olga Zaharovna
Olivia Hocking
Olivia Koroscil
Olivia Young
Olya Bordenko
Orcuni Kocakova
Orsolya Kovacs
Oscaria Perssonovic
Ovski Orsonthin
Paige Williams
Pakuna Abda
Patrica Samioska
Patrika Rafferzka
Pau Torovic
Paula Bennova
Paula Heintz
Paula Machra
Paulina Labrovska
Paulina Petrokova
Pauline Evoska
Pauline Noriska
Pauline Zaffran
Pavla Oriniakova
Penelope Escarcegova
Penelope Modinsk
Penti Neporova
Petra Gardien
Petra Jonsova
Petra Lezovna
Petra Mikael
Petra Pagovska
Petra Wiklof
Petrava Roeslevska
Petrizka Rezch
Phio Fergovska
Phoebe Jelacic
Pierrette Vende
Pippa Fazakerley
Polina Dembovskaya
Polina Egorova
Polly Keekar
Quaz Walloska
Quinn Noxilova
Rachel Goldberg
Rachel Lanthier
Rachel Senin
Rachel Zombro
Rafaeli Breaskova
Rafaella Figredova
Ramia Bela
Ramonya Rakoczi
Rasa Polovska
Rauni Grushevskaya
Rebecca Culos
Rebecca Godovska
Rebecca Horoshevik
Rebeka Dubwa
Rebeka Smitz
Rebekah Mumfoska
Rebekah Nomihoj
Redana Martz
Reese Glidden
Rei Naldi
Reiya Diask
Rene Grigorska
Renee Luna
Revmira Vasilyeva
Rhammar Anash
Rhian Barcellom
Rhian Johansson
Rhys Bennet
Riana Groshenikova
Riane Daley
Rifka Hoffman
Rikard Periloux
Riki-El Darius
Rinnert Yostema
Rita Diakiw
Rizza Albarnovna
Roberta Coptere
Roberta Kreps
Roberta Misak
Roberta Norton
Roberta Slessor
Roberta Vonovska
Roberta Zafari
Roberta Zuverovna
Robin Fowler
Robin Julias
Robin Loenetska
Robyn Noonan
Rosa Eszertovska
Rosalie Simon
Rose Burrowska
Rose Cass
Rosita Burtos
Roxanne Panchovska
Roza Kyevinova
Rozsa Hangyi
Rushika Deminki
Russolina Meira
Ruvska Hoisington
Ruya Hood
Ryovski Forsing
Saara Aitakangas
Sabrina Funke
Sadie Cromer
Salamari Halinen
Salia Dnaltof
Salvent Gaborovska
Samantha Dunlap
Samantha Geyer
Samantha Lundberg
Samantha Nimmo
Samantza Kharvo
Samara Organovna
Samitri Schrimova
Samovskine Nimona
Samuela Keppalan
Sana Sidikova
Sandra Duval
Sandra Karelse
Sandra Simic
Sara Aldhaheri
Sara Armiteva
Sara Cantora
Sara Hagen
Sara Sireni
Sara Uilyamova
Sara Wardonsvik
Sara Watovna
Sarah Argodale
Sarah Barber
Sarah Bennett
Sarah Calvera
Sarah Hazledine
Sarah Kusler
Sarah Skarav
Saranka Kirshinovisko
Sasha Brogos
Sasha Geerken
Sasha Hansen
Sasha Polenk
Sasha Yargoniv
Sawyer Healy
Saya Nanba
Sazar Parvak
Sebastina Jaakola
Semaja Irutneva
Sereja Limanskaya
Serskova Artovska
Shahir Djuita
Shalena Jelen
Sharmila Prabhu
Sharona Corbova
Shavka Webstrova
Shayla Thomas
Shea Montovska
Sheryn Ng
Sheyen Vafahizodova
Sik Jaji
Simon Withers
Simone Felix
Sini Muikku
Sinna Deroyova
Sirina Kverin
Sirma Thrace
Skylar Agafya
Sofia Cekke
Sofia Cladova
Sofia Leczera
Sofia Lourenco
Sofia Pengova
Sofia Pietrowska
Sofia Rodriges
Sofia Wilhelm
Sofiil Sovska
Sofya Symonovna
Sonia Jarmula
Sonia Loramova
Sonia Ribeiro
Sonja Kisa
Sonja Raven
Sonya Dvorkin
Sonya Hawk
Sonya Portzova
Sonya Rostova
Sophia Bilbaskova
Sophia Euphrosyne
Sophie Fonec
Stefanee Burghe
Stefani Deitaschke
Stefani Ivers
Stefani Zelikovics
Stefanie Darzofska
Stefanie Laiovska
Steffany Sotirova
Stefi Martinovic
Stephana Malbequi
Stephani Hodgovska
Stephani Riffel
Stephanie Adamarin
Stephanie Soto
Stephanie Wagar
Suke Jo
Sumeet Lehal
Susan Heikinzki
Suzanne Gukevska
Svetlana Idinova
Svetlana Lelzka
Svetlana Lobachevska
Svetlana Petovic
Svetlana Rotzovska
Svetlana Rybina
Svetlana Rykatina
Svetlana Torvska
Svetlana Tovarisch
Sylvia Kariovna
Sylwia Bukato
Tabita Renovitsh
Tal Nufar
Taliya Malkova
Tamila Poulaga
Tamir Karsli
Tamonina Jarvela
Tanitza Lawrenovska
Tanya Nebeskova
Tara Olbon
Tarran Borgess
Taryza Hansonska
Tasha Dergner
Tatiana Romenkova
Tatyaka Rinova
Tatyana Ulyanova
Tavarin Jinnovska
Tavita Kofman
Telma Rocha
Terenti Kenenkova
Teres Svordova
Teresa Valduga
Teresa Xavier
Tereza Braunsk
Tessa Chanze
Tessa Marlow
Tessi Danivitch
Tessia Jendrash
Thanaelle Makareva
Thea Forslund
Tiara Poloska
Timothia Swenovic
Tina Obetkoff
Tiril Pollard
Toini Hakkinen
Tokami Speko
Tomska Marsan
Tona Ambrosio
Trea Hoekman
Tuovi Weseli
Tvoje Malan
Twan Vandiest
Tyler Yarbrovska
Ulla Winblad
Ulrika Bokstad
Vala Berinovska
Valentina Dupont
Valentina Grigori
Valentina Hales
Valentina Kuarova
Valerie Brunleva
Valerie Salladay
Vanessa Espinoza
Vanessa Himeloska
Vanessa Merine
Vanessa Ricaurte
Vanessa Sternshein
Vania Pardal
Vanja Popovic
Vanlina Chersaya
Vanya Fortanovna
Vera Kolodniki
Vera Valeriana
Verlinda Kosovna
Veruska Beliakova
Victoria Longinos
Victoria Niemeyer
Victoria Poultovska
Vika Savelyeva
Viktoria Melinska
Viktoria Monslavo
Viktoria Nitenova
Viktoria Nogeirova
Viktoriya Kravets
Vilena Pogiba
Violetta Szenfeld
Virpi Martin
Viviane David
Vladlena Koza
Vlatka Nekic
Vratislava Bukof
Wendi Oliva
Wilma Havraniak
Wilma Hoff
Witolda Lydmanska
Xavia Sivirity
Xenia Ilyanova
Yakabito Bitovska
Yakov Wuskovska
Yakova Wilnoska
Yana Mechanikova
Yara Jacob
Yasmin Moreska
Yelena Aposl
Yelena Catusevic
Yelena Strinska
Ynja Shobanosk
Yoanna Olburkova
Yohanna Kadmus
Yoni Gogalack
Yosephine Volk
Yulia Ekaterina
Yulia Guseva
Yulia Marchant
Yulia Stavisk
Yulia Voronina
Yuliya Krutok
Yuliya Paleja
Yusra Adam
Yuu Takayuki
Yvie Falloon
Yvonna Wilhelm
Yvonne Penguinos
Zahra Calagui
Zahra Mair
Zaiga Gravenieks
Zaira Vicere
Zan Kelc
Zarrow Cygnus
Zdenka Radich
Zeldris Kiskovite
Zera Grazoniv
Zoe Gnaro
Zoey Alken
Zofia Nielsen
Zordana Baratheon

Aaron Gulliford
Aaron Luing
Abdullah Otaiba
Abraham Crewson
Adam Higgovic
Adam Kreczmanski
Adamik Strang
Adamse Wicktora
Adrian Ingebriten
Adriano Viveiros
Ahmad Asyraf
Ahmad Banjabey
Aidan Clegovski
Aidan Mannan
Aidan Murphy
Aidan Vella
Aiden Libet
Alan Baehlerov
Alden Montierth
Alecik Ficsher
Alek Fourniev
Aleksander Krefft
Aleksander Ovechkin
Aleksander Rickert
Aleksander Seczek
Aleksander Zelazo
Aleksandr Bolotov
Aleksandr Dimchiko
Aleksandr Single
Aleksandr Tuza
Aleksandr Wickersham
Aleksandras Izokaitis
Aleksi Karinemi
Aleksi Salavos
Aleksi Tanttu
Alex Ritenour
Alexander Catalan
Alexander Chernovski
Alexander Espinovski
Alexander Guiance
Alexander Helm
Alexander Knapik
Alexander Reed
Alexander Reznov
Alexander Smitriyev
Alexander Sobolev
Alexander Vanderlin
Alexander Vupkin
Alexander Zaterka
Alexandr Grigoriev
Alexandr Nityev
Alexandra Degtyarev
Alexandre Doolan
Alexandre Ferreira
Alexandre Masip
Alexandre Susski
Alexandre Zalestin
Alexandru Basangeac
Alexei Leonov
Alexei Pingonov
Alexei Zhouoski
Alexi Davoski
Alexi Ellington
Alexi Glidevel
Alexi Rosenbev
Alexi Rumonov
Alfred Dobradi
Alin Dragomir
Alix Oswald
Alphonsus Glauz
Alrick Skard
Alvaro Frank
Amado Aji
Anandis Kulkarn
Anders Sorensen
Anders Zhang
Andre Brito
Andre Klass
Andre Morpurgo
Andre Olsson
Andre Raeside
Andre Villa
Andreas Askopolous
Andreas Bromand
Andreas Parmo
Andrei Buceceani
Andrei Goyetsky
Andrei Tevoski
Andrej Luckowsky
Andrej Suttonovichek
Andres Cardona
Andrew Bullock
Andrew Detering
Andrew Estep
Andrew Kolesov
Andrew Li
Andrew Petroski
Andrew Sabon
Andrey Sokolov
Andri Vidisson
Andrius Saulis
Androck Somaar
Anikov Alexander
Ansel Novchek
Anson Lai
Anthony Bivetto
Anthony Lin
Anthony Newman
Antoine Dieulesaint
Antol Czibor
Anton Aldvik
Anton Bolshakov
Anton Chan
Anton Kukshaus
Anton Serikovski
Anton Tarasov
Anton Vallari
Antonio Pucekovic
Anze Jesenkovski
Arashi Bahrami
Arca Coruh
Arctem Hoblovski
Ardanov Yitoglusk
Arek Krakkar
Argov Petrovski
Aric Shubeck
Arin Hansonov
Arlon Clark
Armenansky Abbot
Arne Callewaert
Arne Setern
Aron Gebrehiwot
Aronovich Lantz
Arpad Seprodivski
Arron Hopcroft
Arron Malewdev
Arseniy Smirnov
Arseny Semin
Artemiy Kulovic
Artemiy Papkov
Arthur Jordan
Arthur Lukmanov
Arthur Morolen
Arthur Trusov
Arto Hanninen
Arttu Palmgron
Artur Dolgorukov
Artur Korchinskiy
Arturs Liepins
Arvi Teikari
Asen Haritov
Asger Tjell
Ashov Cawton
Astus Hallow
Atticus Sudenka
Attila Szoke
Augustas Plaipa
Aurele Collin
Austin Holonski
Avery Derope
Axel Isager
Azeem Yaseen
Babrak Karmalstoy
Badger Lovk
Balint Kocsi
Balu Prasanna
Barak Peer
Beleveski Kilchentov
Benito Pennell
Benjamen Kotulak
Benjamin Balmaceda
Benjamin Cannata
Benjamin Geier
Benjamin Greenskarov
Benjamin Lempereur
Benoit Chamontin
Bentovski Liu
Bernard Malliazki
Bjorn Eriksson
Blago Krymov
Bobston Tallman
Bojan Kravitz
Bora Kobovik
Borek Tsav
Boris Chibovski
Boris Emankiov
Boris Grolavitch
Boris Kawersky
Boris Kuri
Bradyn Herrboldt
Bram Ayers
Brandoriz Howiski
Brenovik Bronin
Bretartay Dunivant
Briavski Reichenbach
Brock Court
Bruno Mahric
Bryan Lukasko
Bryn Stenzkovski
Cade Andreskor
Caius Durlov
Cale Wodey
Caleb Sundsted
Calin Lambert
Calle Klovstad
Calum Shaw
Cameron Bromley
Carl Gonsalves
Carlen Huexavar
Carlos Andre
Carson Thorne
Carter Johannesson
Carzon Estalishka
Casimir Meciar
Cesar Verissimo
Charles Maugin
Chase Waliky
Chase Willits
Chi Direvich
Chipses Kalman
Choq Nordeen
Christian Jimenov
Christian Sorrell
Christof Caldovy
Christof Munoz
Christoffer Justesen
Christoph Averhoff
Christopher Dragomer
Christopher Jacobs
Christopher Kerr
Christopher Mischenko
Ciprian Iluta
Claude Mathias
Claudio Bryla
Clayton Wells
Clement Ishutin
Connor North
Connor Read
Connor Strader
Conor March
Cormac Farley
Cosmo Letski
Cosmo Vanderlay
Craig Krocinski
Cristinel Divito
Criston Rogelinov
Csaba Daradics
Cutler Sheridan
Cyrovski Dmitri
Dakovski Hayes
Damian Elric
Damian Gworko
Daniel Gantak
Daniel Haazen
Daniel Hutnan
Daniel Jenkinski
Daniel Jzakoev
Daniel Lindvoski
Daniel Madchovski
Daniel Nackblad
Daniel Noe
Daniel Penovski
Daniel Pham
Daniel Storovski
Daniel Willetts
Daniel Zahn
Danil Supar
Danilo Isaac
Daren Cepeda
Dario Gallardo
Darius Stanczyk
Darmani Nissen
Darrell Britton
Davask Heardski
David Cergizan
David Deboer
David Diez
David Dolarsky
David Holmstedt
David Ignatov
David Jeziorski
David Kovacs
David Minguet
David Ovski
David Salas
David Salmon
Davide Ciappe
Delante Capers
Dellovski Iphin
Deniz Akgun
Dennis Kolenevic
Derek Makovski
Dermot Arnold
Dilan Marinelo
Dimitriy Koptenkov
Dio Altan
Diogene Bakounine
Diogo Lourenco
Dmitri Lokiszka
Dmitriy Pshoul
Dmitriy Sokolov
Dmitriy Yurinov
Dmitry Lyashevich
Dmitry Nosov
Domingo Martin
Dominic Crosato
Dominic Fildes
Dominic Vanner
Dominik Pavlek
Dominik Waurensk
Dominik Weidner
Dong-Hee Na
Donovan Vance
Dorian Wainwright
Drechin Wadchenko
Duhyun Han
Duncan Haig
Dylan Burtofsky
Dylan Gill
Dyloanius Monkov
Edmond Tranovski
Edmund Wallance
Edoardo Crepaldi
Eduardo Vallejo
Edvard Yungovski
Edward Gray
Ein Lingenkoff
Eitan Walzec
Eldar Hasanovic
Eldavo Liebel
Elek Sievers
Elias Naron
Elijah Thomas
Emil Jensen
Emil Kjaerbaek
Emil Lindqvist
Emil Pettersson
Emir Sejdic
Emre Dede
Ender Weiss
Endrio Felipov
Erasmus Knudsenski
Eric Bergstrom
Erick Burkiewicz
Erick Schneider
Erik Anzo
Erik Bernheim
Erik Grigoriev
Erik Hosford
Erik Hvid
Erik Jensen
Eriks Bredovskis
Erki Antonov
Erman Lillenkovic
Erskin Kirsche
Eryk Zgajewski
Eso Jung
Espen Alme
Espen Askeladden
Espen Gjerdkov
Estevam Mota
Eszlari Miklos
Ethan Bosiovski
Ethan Ooi
Ethan Prueittov
Eugen Kudeuski
Eugene Havenga
Eugene Kostovetsky
Eugene Kovalevskiy
Eugzeny Slenst
Evan Critch
Evan Simmons
Evan Whomskij
Evgeny Sadov
Evgeny Sredin
Eyan Szaszko
Ezekiel Summers
Fabrice Shulz
Felipe Holek
Felix Gossmann
Fernando Ramallo
Filip Cirovic
Filip Profski
Finley Petrokivat
Florian Hillebrand
Florian Stieghorst
Foma Pasquier
Francesco Busiello
Francis Alenko
Francisco Corro
Francois Degryse
Frank Yates
Franko Lizovski
Frantisek Gerat
Franz Meier
Frederic Arsted
Frederic Poirier
Frederick Stassart
Frederik Styche
Fredriek Lugg
Fredrik Madsowski
Fridir Soin
Gabriel Balimir
Gabriel Boschi
Gabriel Corbelov
Gabriel Perugini
Gabriel Wildsanov
Gabriele Timoneri
Gage Poltrovich
Garett Wyszlak
Garoar Breki
Garotte Muldonvic
Garrett Luzadder
Garrett Valker
Gaston Cerioni
Gavin Warrenov
George Boote
George Cartenian
Georgio Dayen
Gerard Lamkov
Gerbos Canholdu
Gica Popescu
Gideon Geigers
Giorgio Schiavon
Giovanni Castaldo
Gonzalo Barrera
Gouve Borgo
Graham Young
Grant Baker
Grant Miner
Grav Medevski
Grayson Honan
Gregor Aliyev
Gregor Onkh – Alias of the German Let's Play YouTuber Gronkh
Gregor Ratezoy
Gregori Wardskov
Gregory Beilstein
Gregory Reaper
Grungil Thorstburg
Guilherme Cavalheiro
Guney Yasar
Gunther Lauchus
Gustav Anstovski
Gustavo Lazo
Gustov Butzen
Haakon Borch
Hakon Heggen
Hampus Brauten
Hampus Emigan
Hans Schwaberow
Hans Wagner
Hanvit Kangs
Harald Capkevics
Harald Hultin
Hayden Lambing
Hayden Marcell
Hayden Noble
Haziq Norisham
Hector Yanes
Hein Hansman
Henri Stonelake
Henrik Bilski
Henrik Bylund
Henry Chau
Henry Phan
Hermes Leal
Herny Bahus
Herwig Kleiner
Hjalte Thor
Hohen Soyuz
Hubert Kaluzny
Hubert Maciejewicz
Hugo Garsiovz
Hurshel Dunstovich
Iain Baillie
Iakov Povar
Ian Arkin
Ian Gaida
Ian Stolzenberg – refers to Jan Stoltenberg, former Prime Minister of Norway
Igor Batovski
Igor Bilanovic
Igor Fedotov
Igor Fontani
Igor Ketov
Igor Schiloski
Ilija Samardzija
Ilkka Savovski
Illan Xia
Ilya Nadyrov
Ilya Sylvashko
Isaac Gojkovich
Isaac Hofmanov
Isaac Kwon
Isaac Pokryski
Isak Engeroshka
Isiah Loughrey
Istvan Briuki
Iulian Mocanu
Iulio Szabo
Ivan Briones
Ivan Chrisovich
Ivan Denovich
Ivan Dokovski
Ivan Gamolski
Ivan Klobuca
Ivan Legazpi
Ivan Maksimovic
Ivan Mekler
Ivan Odintsoff
Ivan Omegosky
Ivan Ostrowski
Ivan Parki
Ivan Rovski
Ivar Paulin
Ivo Pereira
Jaakko Bushetvik
Jack Finn
Jacob Bernharth
Jacob Huntowitz
Jacob Molen
Jacob Steinberg
Jacob Sullivan
Jacob Sulovksi
Jacobi Weaver
Jacque Hawkins
Jacque Montokava
Jaelosk Ottos
Jakob Bannister
Jakob Barfield
Jakob Hazen
Jakob Holland
Jakob Perchevsky
Jakob Powelski
Jakob Roger
Jakob Tomlin
Jakob Viktor
Jakob Whitt
Jakov Asura
Jakov Fjord
Jakub Sochorovski
Jakub Vasinek
Jakub Wojdziak
James Espinoza
James Gronowski
James Hertzog
James Keeling
James Krolovski
Jameson Gall
Jamie Sligo
Jamil Lunatev
Jamin Sugden
Jan Cornelis
Jan Gapanowicz
Jan Hartmann
Jan Kubelka
Jan Marko
Jan Matl
Jan Vaclav
Jan Vogeleski
Jani Kiiveri
Janno Arnek
Janosch Hellmichov
Jaovski Penta
Jaquob Deyne
Jared Ning
Jarkko Liehu
Jauncey Tarjivar
Javicen Higanbana
Javier Alvarado
Javier Cacerevnia
Jaxson Gould
Jaydenosk Petch
Jean-Luc Seipke
Jeff Cook
Jens Lauridsen
Jeong Lee
Jere Longbikov
Jerem Zitna
Jeremy Sidotovski
Jerik Boritov
Jesper Madsen
Jesper Olander
Jessen Hildebrandt
Jinsung Kim
Jirka Haban
Joachim Olesen
Joacim Ottehall
Joakim Mosleth
Joar Nordstrom
Joel Heikkila
Joel Kometz
Johan Antonov
Johan Garil
Johan Irvall
Johan Rasmussen
Johann Blawotzki
Johann Eriksonij
Johann Stokvel
Johannes Hinnu
John Hinchliff
John Mahovski
John Polizziovski
John Stivenson
Joikin Duvoiski
Jonah Anthavael
Jonah Hopier
Jonas Bonin
Jonatan Nakandala
Jonatas Darrochski
Jonathan Meadovski
Jonathan Rovski
Jonathan Stebbins
Jonathan Visconti
Jonazki Kriztinsson
Joni Koistinen
Jonitz Kastbern
Jono Goldsmin
Jontaval Moallem
Joonzs Pajunzkin
Joosep Sisas
Jordaski Wilzinov
Jorde Baro
Jorden Hendrovski
Jorge Flymex
Josef Bornstein
Josef Hammonovski
Josef Kienle
Josef Lefravski
Josef Mogle
Josef Murmann
Josef Runovski
Josef Samborski
Josef Sepenzia
Josef Stergrad
Joseph Bowar
Joseph Corminsk
Joseph Hunnic
Joseph Kuca
Joseph Luo
Joseph Maxwell
Joseph Parenski
Joseph Roberts
Joseph Seidelkov
Joseph Stroud
Joseph Tennenbaum
Joshua Andruskevik
Joshua Barcaus
Joshua Bisset
Joshua Blackwelder
Joshua Kowalski
Joshua Kunowski
Joshua Laber
Joshua Ruell
Joshua Teakles
Joski Venz
Jost Hocevar
Jovan Grbic
Jovik Fosing
Jozef Stieranka
Jukka Rantala
Julian Karanikas
Julian Kozlovsky
Julio Mateo
Julius Vincentovski
Junaito Tropikov
Juraj Kuna
Justin Lanken
Juston Dialovski
Juul Vandenbosch
Juuso Latva
Kaan Tuwer
Kaarlo Castrenzius
Kaj Pihlajamaki
Kalroth Dansker
Kalson Chan
Kaos Truski
Kardos Matte
Karel Suvitie
Karimtoli Maklovich
Karl Bergstrom
Karl Calise
Karl Frentz
Karlus Deitz
Karvok Gretstovski
Katwamba Mutale
Kedan Ojeda
Keen Hobski
Keenen Khovski
Keil Zeytsev
Kendall Gatsby
Kenneth Tagscherer
Kent Betrustiki
Kev Pfeiferovitch
Kevin Bairvanyovich
Khalid Awadhi
Kian Burke
Kieran Jenvey
Kiir Monovski
Kim Nyyssonen
Kipras Pasakinskas
Kirios Fomalhaut
Kjartan Andersen
Klyne Trog
Koen Degroot
Koenig Bottcher
Kolya Yannikov
Konstantine Tsoukalas
Koschei Odonovski
Kostas Vaggos
Kris Buehlstoy
Kristian Lentz
Kristian Matthews
Kristof Dunnkarzt
Kristof Mullins
Kristofer Bergstrom
Kristofer Odom
Kristofer Thunstrom
Kristoff Meyer
Kristopher Eames
Kristopher Howe
Kristopher Paison
Krisztian Fono
Krisztof Ziebavski
Krisztov Lorai
Kuroi Sama
Kyle Bergman
Kylor Dukov
Kyrill Torelov
Landon Drost
Lars Nilsson
Laurence Hamilton
Lazar Panev
Leika Lingohist
Lenar Mukhutdinov
Lendl Acedovik
Lenn Gholston
Leo Panin
Leonid Astudillo
Leonid Ermakov
Lev Shestov
Liam Halvski
Lidor Kalfon
Lior Simantov
Liwiusz Labadzki
Lleamen Stein
Logan Illenberger
Logan Mayhew
Logan Stakolchic
Loic Debry
Loris Prestaux
Louise Delgata
Lucas Moura
Lucas Sebastian
Luciano Borges
Luis Globku
Luis Quintana
Luka Aboyov
Luka Benato
Lukaas Haines
Lukas Foranoztka
Lukas Heisel
Lukas Leblonovich
Lukas Lihocky
Lukas Mikalauskas
Lukas Skolowski
Lukas Thiel
Lukasz Grabka
Maciej Jastrzebski
Maciej Kurczewski
Maciej Wikiel
Mack Muir
Madovski Tzukan
Magnuch Vendinski
Mahej Korovski
Makai Mariano
Malakov Stephans
Malcol Crucivitch
Malcolm Exall
Mali Korolov
Manuel Fialle
Manuel Rademovski
Marc Nadeau
Marcal Bruna
Marcel Reboucas
Marcel Schimanski
Marcin Guzik
Marcin Kryszewski
Marcin Wojcik
Marco Hoshi
Marco Zorrilla
Marcos Rincon
Marcos Sousa
Marcov Riedl
Marcus Wagner
Marin Naberski
Mario Makaric
Marius Polanski
Marius Sunde
Mark Andersen
Marko Gartak
Marko Nugraha
Markos Perlovski
Markov Braga
Markovski Boydicus
Markus Krauklis
Markus Nilsson
Markus Soderman
Marshal Malinowskij
Marten Habala
Martin Floeng
Martin Moran
Martin Nogara
Martin Segalis
Martin Vallespir
Martin Wain
Martin Wielgus
Marto Genchev
Mat Ohlendorf
Matalov Telforo
Matei Bazhlekov
Matevsky Cerdeira
Matfey Bodega
Mathew Linder
Mathew Schnepel
Mathias Cooman
Mathias Seipejervi
Mathias Wallin
Matias Gronholm
Matrios Gardnesk
Mats Isakson
Mats Kleppe
Matteo Coda
Matteo Germanovski
Matteo Tiberovski
Matthew Boychuk
Matthew Conwanov
Matthew Mennis
Matthew Oldfield
Matthew Pena
Matthew Schoultz
Matthew Weis
Matthew Zelko
Matthias Krings
Matthieu Roger
Mattias Brooks
Mattias Nyhus
Mattias Olsson
Matvey Hikosiv
Maxim Grinev
Maxim Ogorodnik
Maxim Veisheim
Maxime Chastang
Maxime Klein
Maximilian Reiner
Maxwell Pearlman
Maxwell Villard
Michael Dowler
Michael Farris
Michael Groszek
Michael Gruchow
Michael Henke
Michael Klemka
Michael Musengezi
Michael Sansfacon
Michael Sawicki
Michael Valinsky
Michael Weir
Michail Sadursky
Michal Delvoski
Michal Kucik
Michal Peczynski
Michal Turcar
Miguel Burghardt
Miguel Jervez
Miikka Hulkkonen
Mikael Convoaksi
Mikael Jonsson
Mikael Keller
Mikael Smartov
Mikael Talamo
Mikael Tengelin
Mikael Valker
Mikhail Colinsovic
Mikhail Kastinov
Mikhail Lealovich
Mikhail Nikulescu
Mikhail Nnemonikov
Mikhail Patrovsky
Mikhail Reyes
Mikhail Yapovich
Mikkel Bonde
Mikkel Eifoz
Mikkel Ivarsson
Mikkel Lauritzsen
Milan Mladenovic
Miles Graham
Milos Todorovic
Misha Oxlong
Mislav Giorgio
Mitchell Pogreba
Mithilesh Konakanchi
Mohammed Bensakrane
Montsike Oldrovski
Morgan Decker
Moric Benovski
Morten Fjeld
Morvin Granacher
Mukhamed Karanashev
Nathan Fannshi
Nathan Larkovski
Nathan Tokovski
Nathanael Muller
Nathaniel Cragun
Nathaniel Maier
Natik Bachovski
Navin Reddy
Neromler Kozlov
Nevon Griffiths
Nezosk Charlo
Nicholas Barr
Nicholas Britsky
Nicholas Carter
Nicholas Doelger
Nicholas Langerveld
Nicholas Palomo
Nico Kinzet
Nico Palmucci
Nicola Hristov
Nicola Reidski
Nicolai Bruhn
Nicolai Susemihl
Nicolai Vanting
Nicolai Villanen
Nicolas Constantin
Nicolas Grof
Nicolas Mayski
Nicolas Perron
Niel Pisan
Nihar Sheth
Nikifor Ingram
Nikita Khayrov
Nikita Simkhovich
Nikita Spakov
Niklas Hintsa
Nikloas Mattern
Niko Haapakoski
Niko Lampela
Nikola Dengeroski
Nikola Gill
Nikolai Crivello
Nikolai Ednerov
Nikolai Kirche
Nikolai Kraulik
Nikolai Panzer
Nikolai Valkov
Nikolas Eisemann
Nikolas Giatis
Nikolas Langbach
Nikolas Telekamp
Nikolay Kopytov
Nikolay Osokin
Nils Rasmussen
Nimishel Lee
Nivek Hutchison
Noa Hamlen
Noah Kapsales
Nolan Barniol
Norman Hasandil
Octap Ivanov
Odah Kovaks
Odin Milovski
Okhotnik Khorton
Ola Aasheim
Olec Chambrovski
Oleks Karnov
Oli Newsham
Oliver Arkwright
Oliver Boulton
Oliver Christens
Oliver Jukovitch
Olli Konola
Olli Lehto
Ordin Blandov
Orin Badinski
Oscar Karter
Oscar Lai
Oscar Navarro
Oscar Utterback
Oskar Kjaergaard
Otto Herman
Otto Karpfen
Otto Matika
Ovin Sandoskly
Owen Monsma
Owen Sciberras
Oystein Magnnali
Ozato Migeloks
Pablo Lezgar
Pablov Tajet
Pal Pearson
Palos Devisetri
Paolo Decena
Pascal Baken
Patrick Brand
Patrick Keizer
Patrick Rosenfeld
Patrik Carsonov
Patrik Halovski
Patrovsky Dragunov
Paul Kohler
Paul Pillau
Pavel Isakovich
Pavel Nikolov
Pavel Rodnorov
Pedro Costa
Pepij Aukema
Per Diesveld
Pere Milkovich
Pertti Korhonen
Peter Bacigal
Peter Boettcher
Peter Gorban
Peter Halgesson
Peter Helskovski
Peter Hilditch
Peter Ingebret
Peter Johansson
Peter Kiraly
Peter Magyar
Peter Michelsen
Peter Roslovich
Peter Sliwkanich
Peter Soderqvist
Petko Todorov
Petr Chapko
Petr Daisovski
Petr Stepka
Petr Stoudek
Petre Zwegat
Petros Kiemliz
Petrov Anderson
Petrov Trosvadaya
Petyr Bosch
Philip Zakharov
Philipp Rohn
Pierre Fortier
Pierre Mesple
Pietro Corsi
Pietro Slushovic
Piotr Gorski
Piotr Kozerski
Preston Guillot
Prokop Buben
Pyeltor Yergovski
Pyetr Kerrinski
Pyotr Barbosovic
Pyotr Kushajov
Pyotr Milenko
Pyrov Dragunov
Qi Xhan
Radan Rusanov
Radovan Bednar
Raen Dolchev
Rafael Anguiano
Rafael Mei
Rafal Staszewski
Rahat Rashid
Raj Vyas
Ramez Gadelrab
Rangelkent Skoogh
Ranier Koch
Raphael Salomao
Rashish Abushov
Rasmus Dalsgaard
Rasmus Jerno
Rasmus Toftegaarsk
Raton Laveurovski
Raymond Brett
Rene Morales
Ricardo Mognon
Richard Rutsch
Rickard Hughes
Rienic Solonyk
Rikard Stokton
Rikardo Ivanovic
Rikus Claassens
Roan Berg
Robert Dobalinksi
Robert Gustafsson
Robert Hampton
Robert Katimski
Robert Khop
Robert Pitak
Roberto Gunning
Roberto Moscetti
Rogerio Martins
Romain Longueiv
Roman Deshayevski
Roman Kachkin
Roman Kech
Roman Novosho
Roman Sotskiy
Romario Nicoli
Ronack Toscano
Ronan Clark
Ronan Cuin
Ronic Girmace
Ror Alenovich
Ross Muggridge
Rowan Dunski
Rowan Thirovski
Ruben Ekstrom
Ruben Minnaert
Ruben Moyaert
Rusfor Ulrikos
Ryan Locovskio
Ryan Surgenor
Ryskan Forbes
Sakari Heinonen
Samel Purovskij
Sammie Vilson
Samuel Bentley
Samuel Borellini
Samuel Meding
Samuel Ramischovski
Samuel Schmitt
Samuel Vestey
Samuil Hoper
Samulej Lokence
Sander Brocken
Santeri Jarvinen
Sascha Rowliski
Saul Freedman
Saveli Sviridoff
Scott Lange
Sean Burrowski
Sean Giroux
Sean Wilkovski
Seanuk Yinton
Sebaski Martenski
Sebastian Bruckner
Sebastian Dittmar
Sebastian Payne
Sebastienne Hermann
Sepol Enderel
Serge Pokor
Sergei Blodnovski
Sergei Galute
Sergei Morov
Sergey Adushev
Sergey Kuznetsov
Sergiu Weisz
Seth Zurlo
Shane Parsons
Shen Walter
Signov Klinch
Sigurd Rasmusski
Simo Virtanen
Simon Afek
Simon Grunditz
Simon Jordanof
Simor Nystroem
Simos Jenson
Simski Gombrov
Slavomir Krug
Slobodan Draqic
Sooho Bae
Sov Garndarner
Stanislav Parabol
Stanislov Schrodovich
Stanley Wijaya
Stefan Colov
Stefan Gutu
Stefan Hanreich
Stefan Howeski
Stefan Jaworskyj
Stefan Lachmann
Stefan Langeveld
Stefan Plackov
Stefan Sauerzapf
Stefan Valentinov
Stefan Vandski
Stefan Zajak
Stefano Gualeni
Steffan Poninski
Steffen Jensen
Stepan Barlis
Stephane Forlini
Stevo Lugonja
Stian Andreassen
Stian Bratlie
Sungduk Hwang
Sven Gebhardt
Sven Rellik
Sven Schroder
Sven Wagner
Sylvain Passot
Tan Zhen
Tanguy Poulenard
Tarmo Pollu
Taylor Jackson
Teemu Auvinen
Teemu Korkeakoski
Tekla Giglielo
Tenchi Haiken
Teodor Matusoiu
Tephan Conrad
Teppo Polonen
Thomas Boreman
Thomas Ferreira
Thomas Leov
Thomas Papai
Thomas Rotrekl
Thomas Seguin
Timiski Wallinoss
Timo Shvanic
Timofey Chutof
Timofey Sokolov
Timovei Hage
Titov Alexandru
Tiwat Visatanon
Tobias Dustavski
Tobias Pruzia
Tobias Ryder
Tolga Yazicioglu
Toma Karaskan
Tomach Michalak
Tomas Barcous
Tomas Davok
Tomas Hajka
Tomas Howsloski
Tomas Karpentur
Tomas Kichovski
Tomas Lopardas
Tomas Shulga
Tomas Wasdel
Tomasz Chodakowski
Tomasz Clivovitz
Tomasz Gorski
Tomasz Konarek
Tomasz Parkov
Tomaz Krejan
Tomek Guzik
Tomi Viklund
Toto Tionski
Trebor Braunovski
Trivor Harech
Tugkan Cengiz
Tully Grimski
Tuukka Vanski
Tuure Kolo
Urist Dakostov
Vaclav Pohanski
Vadim Baum
Vadim Krestov
Vadim Sedov
Valtteri Saarinen
Vasile Dorinel
Vasili Bodrovski
Vasiliy Prorok
Vedran Markulj
Veniamin Lenetski
Verl Vahabi
Vicente Fernandez
Victor Elovsson
Victor Gladisky
Victor Maslov
Vikor Blagdanovich
Viktor Reshetov
Viktor Shulanski
Vilhelm Stevko
Vilhelm Wintro
Ville Siivonen
Vimli Deshovski
Vincent Ignatjev
Vincent Meinel
Vincenzo Tank
Vitaly Arhipov
Vito Bartak
Vlad Bertolovic
Vlad Karlov
Vlad Lebedev
Vladimir Charcovski
Vladimir Damjanovich
Vladimir Frankovski
Vladimir Gopic
Vladimir Kabovski
Vladimir Kozyrev
Vladimir Praski
Vladimir Romonov
Vladislav Dominic
Vofoeki Elis
Vojtech Janecek
Vyacheslav Pukhanov
Walter Proffitier
Werner Contreras
Weslen Useche
Wester Leonae
Westor Leezinski
Wilhelm Rynovski
Wilhelm Varpathi
William Annetts
William Braykiv
William Demis
William Gramann
William Martes
William Napier
William Rozanski
William Snel
William Zeppeli – a Secondary Protagonist in Jojo's Bizarre Adventure, part 1: Phantom Blood.
Wladimir Mykolski
Wouter Passchier
Xuhe Jager
Yaime Sotovski
Yakim Leartoz
Yakov Barker
Yames Henslaki
Yan Redlich
Yasir Choudhry
Yatos Brenev
Yeferez Parsovski
Yizak Simahan
Yohanis Omnik
Yohann Lacaze
Yordan Hairinkov
Yuri Pukovikash
Yuri Stanislav
Yuriy Repkin
Yusuf Bekirov
Zacaria Marlov
Zachary Burton
Zachary Lovdahl
Zander Conradie
Zander Gopling
Zefran Niakolya
Zeke Watson
Zivko Pejic
Zoran Mitrovic
Zsolt Senta
Zurab Khundadze
Zuse Castor
Separate names in 1.1.60
Edit
The first names are in alphabetical order. The last names are in the order they appear in in the game files. This means that they are loosely grouped by their national/ethnic origin. Since many Slavic family names have different forms depending on gender, the last names column contains names with two variants separated by /.
Female names
Male names
Last names

Aada
Aadya
Aaliyah
Aanya
Aarya
Abbigail
Abbygail
Abigail
Abril
Adela
Adi
Aditi
Adna
Afra
Agnes
Agustina
Ai
Aicha
Aikaterini
Aimee
Aina
Aino
Aisha
Aishah
Ajla
Ajna
Akshara
Alaya
Alba
Aleksandra
Alessia
Alexa
Alexandra
Alexis
Alice
Alicia
Alina
Alisa
Alise
Alisha
Alissa
Alissia
Alondra
Alysha
Alyssa
Amanda
Amber
Amelia
Amina
Amit
Amy
Ana
Anahit
Ananya
Anastasia
Anastasija
Anastasiya
Andela
Andrea
Ane
Angel
Angela
Angeliki
Angelina
Ani
Anjali
Anna
Anni
Anohito
Anouk
Antonella
Antonia
Anya
Aoi
Ardita
Arianna
Ariel
Arjeta
Arta
Arushi
Aruzhan
Arzu
Ashley
Ashraqat
Asiya
Assil
Aurora
Austeja
Ava
Axelle
Aya
Ayan
Ayar
Ayauly
Ayesha
Ayzere
Azra
Barbara
Barbare
Barbora
Basiliki
Batrisyia
Bayarmaa
Beatriz
Bi
Biljana
Blerina
Blerta
Boglarka
Bolormaa
Brianna
Brooklyn
Cai
Camila
Camille
Carla
Carol
Carolina
Catalina
Catherine
Chana
Charlotte
Chaya
Chiara
Chloe
Christina
Clara
Claudia
Cristina
Dafina
Daisy
Dalal
Damia
Dan
Dana
Daniel
Daniela
Daria
Dariya
Darja
Delfina
Diana
Dima
Dimitra
Diya
Doha
Donika
Dora
Dorothy
Dunja
Ebba
Ecrin
Eden
Edona
Egzona
Eisha
Elen
Elena
Elene
Eleni
Elif
Elin
Elina
Elisa
Elisabet
Elisabeth
Elise
Eliska
Eliza
Elizabete
Elizabeth
Ella
Ellen
Ellie
Elsa
Ema
Emanuela
Emelia
Emely
Emilia
Emilie
Emilija
Emily
Emina
Emma
Erin
Esperanza
Esther
Eva
Evelina
Eylul
Fajr
Fang
Farah
Farida
Farzana
Fatemeh
Fatima
Fatin
Fatma
Fernanda
Fidan
Fiona
Fleur
Florence
Florencia
Fozia
Freja
Gabija
Gabriela
Gabriele
Gabrielle
Gamalat
Gamila
Gazel
Gentiana
Georgia
Gergana
Giada
Giorgia
Giovanna
Giulia
Goda
Gogo
Googoosh
Grace
Gudrun
Ha-eun
Habiba
Hailey
Hala
Hallah
Hamdah
Hana
Hanna
Hannah
Hasnaa
Hasty
Hessa
Hina
Hind
Hoda
Holly
Hong
Hosna
Hosniya
Hui
Humaira
Ida
Ieva
Iida
Ilinca
Imogen
Indira
Ines
Ingri
Ingrid
Inkar
Inzhu
Ioana
Irati
Irem
Irene
Isa
Isabel
Isabella
Isabelle
Isidora
Isla
Isobel
Isobella
Izaro
Jada
Jade
Jana
Janina
Jasmine
Jazmin
Jennifer
Jessica
Ji-min
Ji-woo
Joana
Joanna
Johanna
Johanne
Juan
Judi
Julia
Juliana
Julie
Julienne
Julieta
Juliette
Julija
June
Juri
Kaltrina
Kamila
Kamile
Karima
Karin
Karolina
Kate
Katerina
Katharina
Katie
Katrin
Katrina
Kausar
Kavya
Kayla
Khadija
Khadijah
Khadije
Khawla
Khongordzol
Khushi
Kim
Kimberly
Konstantina
Krista
Kristin
Kristina
Kristyna
Krystyna
Laetitia
Laia
Laila
Lamar
Lamija
Lan
Lana
Lara
Laura
Layan
Layla
Lea
Leah
Leire
Lejla
Lena
Leona
Leoni
Leonie
Leonor
Letizia
Leyla
Li
Lia
Lian
Lilee
Lili
Lilja
Lilly
Lilou
Lily
Lina
Linda
Linea
Linn
Linnea
Lior
Liridona
Lisa
Lisete
Lizi
Ljubica
Lola
London
Lore
Loreen
Lotte
Louise
Luana
Luca
Lucia
Luciana
Lucie
Lucija
Lucy
Luisa
Ma'ayan
Ma'soumeh
Madison
Maelys
Magdalena
Maha
Maia
Maitha
Maja
Makayla
Malak
Malea
Malika
Malk
Maneh
Manon
Manuela
Margaret
Margarida
Mari
Maria
Mariah
Mariam
Mariami
Marian
Mariana
Marie
Marigona
Marija
Marina
Mariya
Marta
Martina
Marwa
Mary
Maryam
Mathilde
Matilda
Matilde
Maxine
Maya
Medina
Megan
Mei-hui
Mei-ling
Melina
Melissa
Meribel
Mia
Micaela
Michaela
Michal
Milagrosa
Milena
Milica
Min-seo
Miranda
Mirell
Mirlinda
Mirtel
Misaki
Miu
Miyar
Mobina
Molly
Mona
Morena
Mya
Nada
Nadia
Nahia
Naima
Najaaraq
Naomi
Nareh
Narges
Natalia
Natalie
Nazanin-Zahra
Nazrin
Nehir
Nejla
Nela
Nellie
Nesreen
Nevaeh
Neza
Ni
Nia
Nicol
Nicole
Nika
Nikol
Nikolina
Nina
Nino
Nisanur
Nisha
Nishi
Noa
Noam
Noemi
Noor
Nora
Norah
Noya
Nuo
Nur
Nuray
Odval
Oisha
Olivia
Oliwia
Omer
Oyunbileg
Paninnguaq
Paraskeui
Paraskevi
Patricia
Paula
Petra
Phoebe
Pipaluk
Polina
Qian
Qiong
Rachel
Rachida
Rakel
Rania
Raya
Rebeca
Reem
Regina
Reihaneh
Reka
Remas
Renata
Retal
Riko
Rimas
Rin
Riya
Roghayyeh
Romina
Roni
Ronja
Rosalie
Rowan
Ruby
Rudaina
Ruhi
Saanvi
Saar
Sadia
Safiyyah
Saga
Sahar
Sahra
Saida
Sakeena
Sakineh
Sakura
Salma
Salome
Samantha
Sara
Sarah
Selina
Seo-hyeon
Seo-yeon
Seo-yun
Seren
Setayesh
Shahd
Shaimaa
Shamma
Shan
Shayma
Shira
Shreya
Shu
Shu-fen
Shu-hui
Sienna
Siiri
Sillin
Simona
Sina
Smilte
Snezana
Sobia
Sofia
Sofie
Sofija
Sofiya
Somayyeh
Sophia
Sophie
Soussana
Stefania
Su-bin
Suha
Sumayah
Summer
Susan
Suzana
Tala
Talia
Tamar
Tamari
Taylor
Tea
Teodora
Tereza
Thea
Tianna
Ting
Ugne
Uiloq
Uxue
Valentina
Valeria
Valeriya
Varvara
Vasiliki
Venla
Vesna
Victoria
Viktoria
Viktorija
Viktoriya
Viola
Violeta
Wiktoria
Wilma
Xia
Xian
Ximena
Ya-ting
Yael
Yagmur
Yahli
Yan
Yara
Yarin
Yasmine
Ye-eun
Yelizaveta
Ylenia
Yua
Yui
Yun
Yun-seo
Yuna
Yuval
Zahra
Zahra'a
Zainab
Zala
Zara
Zehra
Zeinab
Zeynab
Zeynep
Zhen
Zoe
Zofia
Zsofia
Zuzanna

Aaron
Abbas
Abd
Abdallah
Abdel
Abdul
Abdullah
Abdullo
Abubakr
AbulFazl
Adam
Adi
Adin
Aditya
Adnan
Adrian
Afonso
Agustin
Ahmad
Ahmed
Ahmet
Aiden
Aimar
Ajani
Ajdin
Alejandro
Aleksa
Aleksandar
Aleksandre
Aleksandrs
Aleksi
Alessandro
Alex
Alexander
Alexandre
Alexandru
Alexis
Alfie
Ali
Ali-Reza
Alikhan
Alok
Alvaro
Amar
Amir
Amir-Ali
Amit
Ammar
An
Ander
Andre
Andrea
Andrei
Andrej
Andres
Andrew
Andrey
Andria
Angel
Anthony
Antoine
Anton
Antonio
Anze
Aputsiaq
Aram
Arber
Arda
Ardian
Ardit
Ariel
Arjun
Arlind
Armaan
Arman
Armandas
Armend
Arnar
Arnau
Arnav
Aron
Artem
Arthur
Artjoms
Artur
Arturs
Artyom
Athanasios
Atharv
Aurel
Aurelio
Axel
Ayaan
Aykhan
Ayoub
Azamat
Aziz
Baasal
Bahah
Balazs
Bartosz
Bashar
Bataar
Batukhan
Bautista
Ben
Bence
Benjamin
Berat
Beshoi
Biel
Bilal
Bo
Bohdan
Bram
Brandon
Bruno
Burim
Caleb
Calin
Cameron
Carlos
Carter
Cezar
Charles
Charlie
Chase
Cheng
Chia-hao
Chien-hung
Chih-ming
Christian
Christof
Christoph
Christopher
Christos
Chuluun
Chun-chieh
Chun-hung
Cole
Connor
Conor
Cooper
Cristobal
Daan
Daniel
Daniels
Daniil
Danijel
Danylo
Dardan
Dario
Darius
Darwish
Davi
David
Davide
Davit
De
Dejan
Demetre
Denys
Deven
Diaz
Diego
Dimitar
Dimitrios
Diogo
Dmitry
Dmytro
Dominic
Dominykas
Dong
Dovydas
Dragan
Dylan
Dyllan
Eetu
Egzon
Eisa
Elias
Elijah
Emil
Emilian
Emiliano
Emilis
Emils
Endrit
Eneko
Enes
Enzo
Eric
Ethan
Evangelos
Eyad
Eyal
Fabian
Fadi
Farid
Faris
Federico
Felix
Feng
Filip
Fillip
Finn
Flori
Florian
Florin
Flurin
Fran
Francesco
Francisco
Frederik
Furkan
Fynn
Gabriel
Gabriele
Gang
George
Georgi
Georgios
Gerard
Gergo
Giacomo
Gioele
Giorgi
Giovanni
Gor
Goran
Gregor
Gudmundur
Guilherme
Gunnar
Guo
Gustavo
Gustavs
Habib
Halim
Hamdan
Hamid
Hamza
Hans
Harry
Harun
Hasan
Hassan
Hayk
Haziq
Hendrik
Henri
Hiroto
Hossein
Hugo
Hui
Hunter
Huseyn
Hussain
Hussein
Hydar
Hyun-jun
Hyun-woo
Ian
Ibrahim
Ido
Igor
Iker
Ilia
Ilija
Ilir
Ilja
Innunguaq
Inuk
Ioannis
Ion
Irfan
Ishaan
Itai
Itamar
Itsuki
Ivan
Ivaylo
Jack
Jackson
Jacob
Jaden
Jaiden
Jake
Jakob
Jakub
James
Jan
Janis
Jason
Javier
Jayden
Jean
Jeremiah
Jeronimo
Ji-hoon
Ji-hu
Jian
Jie
Joao
Joaquin
Johann
Johannes
John
Jokubas
Jon
Jonas
Joona
Jose
Josef
Joseph
Joshua
Josip
Juan
Jules
Julian
Jun-seo
Justas
Justin
Kacper
Kaiden
Kang
Kari
Karim
Karl
Karlo
Kaspar
Kathem
Kayden
Keven
Kevin
Khaled
Khalifa
Kirill
Kirollos
Kobe
Konstantinos
Kotaro
Kristiyan
Kristofer
Kun-woo
Lachlan
Lars
Laurin
Lautaro
Lazar
Leandro
Leevi
Lenny
Leo
Leon
Leonard
Leonardo
Levente
Levi
Levin
Lewis
Liam
Liang
Lior
Ljupco
Logan
Lorenzo
Louis
Luan
Luca
Lucas
Luis
Luka
Lukas
Luke
Luuk
Ma'ayan
Magnus
Mahammad
Mahdi
Mahmoud
Mahmud
Majd
Majid
Maksims
Maksym
Malik
Manuel
Marc
Marcus
Mario
Mark
Markel
Marko
Markus
Markuss
Marten
Marti
Martim
Martin
Mason
Matas
Mate
Matei
Matej
Mateo
Mateusz
Matheo
Matheus
Mathias
Mathieu
Mathis
Matias
Matic
Matteo
Matthew
Matthias
Mattia
Matus
Matyas
Max
Maxim
Maxime
Maximilian
Maximiliano
Mehdi
Mehmet
Mergim
Michael
Michal
Miguel
Mikael
Mikel
Mikele
Mikhael
Mikhail
Mikkael
Mikkel
Milan
Min-jae
Min-jun
Mina
Minik
Miras
Mohamed
Mohammad
Mohammad-Reza
Mohammed
Moshe
Muhamad
Muhamed
Muhammad
Muhammed
Murad
Mustafa
Mustapha
Naranbaatar
Narek
Nathan
Nathaniel
Nazar
Neil
Nejc
Nico
Nicolas
Nicolo
Nihad
Niilo
Nik
Nika
Nikhil
Nikita
Nikola
Nikolaos
Nikolay
Nikoloz
Nikolozi
Noa
Noah
Noam
Noel
Nojus
Nolan
Nomaan
Nu'rasyl
Nu'rislam
Nuka
Oier
Oliver
Olivier
Omar
Omer
Omri
Ondrej
Onni
Oscar
Oskar
Owen
Pablo
Panagiotis
Patrik
Pau
Paul
Pedro
Peng
Petar
Peter
Philip
Philipp
Phillip
Pierre
Pol
Prasert
Rachid
Rafael
Raffael
Ralfs
Rani
Raphael
Rashid
Rasmus
Rayan
Rayyan
Ren
Reza
Riccardo
Richard
Riley
Rinor
Robbe
Robert
Roberts
Robin
Rodigo
Rodrigo
Rohan
Romain
Roman
Romet
Ryan
Saba
Said
Salman
Samuel
Samvel
Sander
Sanjar
Santiago
Santino
Saqib
Sean
Sebastian
Selim
Sem
Senne
Shahid
Sharbal
Sigurdur
Silas
Silvano
Silvio
Simon
Simone
Somboon
Somchai
Somporn
Somsak
Sora
Sota
Stefan
Steven
Sukhbataar
Suraj
Szymon
Taha
Taiga
Tamir
Tao
Tarek
Tareq
Tarik
Theo
Thiago
Thijs
Thomas
Tigran
Tim
Timeo
Tobias
Tom
Tomas
Tunar
Tyler
Umar
Unai
Unax
Uri
Uros
Usman
Valon
Vasileios
Vedad
Veeti
Vicente
Victor
Vihaan
Viktor
Vincent
Vincenzo
Vivaan
Vlad
Vojtech
Vuk
Wei
Wen
Wenzel
William
Wojciech
Woo-jin
Wout
Xavier
Yahli
Yanis
Yann
Yassin
Ye-jun
Yegor
Yehonatan
Yerasyl
Yigit
Yong
Yosef
Yousef
Yousouf
Youssef
Yuma
Yusif
Yusuf
Yuto
Yuval
Zach
Zachary
Zahid
Zak
Zan
Zhu
Ziga
Zikri
Zoran

Arianiti
Bushati
Beqiri
Bogdani
Dukagjini
Dushku
Dervishi
Gurakuqi
Gjoni
Hoti
Hoxha
Frasheri
Kastrioti
Kastrati
Leka
Gruber
Huber
Bauer
Wagner
Muller
Pichler
Steiner
Moser
Mayer
Hofer
Leitner
Berger
Fuchs
Eder
Fischer
Schmid
Winkler
Weber
Schwarz
Maier
Schneide
Reiter
Mayr
Schmidt
Wimmer
Egger
Brunner
Lang
Baumgart
Auer
Binder
Lechner
Wolf
Wallner
Aigner
Ebner
Koller
Lehner
Haas
Schuster
Mammadov
Aliyev
Hasanov
Huseynov
Guliyev
Hajiev
Rasulov
Suleymanov
Musayev
Abbasov
Babayev
Valiyev
Orujov
Ismayilov
Ibrahimov
Ivanov
Kozlov
Kovaleov
Kozlovsky
Novik
Peeters
Janssens
Maes
Jacobs
Mertens
Willems
Claes
Goossens
Wouters
De
Dubois
Lambert
Dupont
Martin
Simon
Hodzic
Hadzic
Cengic
Delic
Demirovic
Kovacevic
Tahirovic
Ferhatovic
Muratovic
Ibrahimovic
Hasanovic
Mehmedovic
Salihovic
Terzic
Ademovic
Adilovic
Subotic
Savic
Popovic
Jovanovic
Petrovic
Duric
Babic
Lukic
Knezevic
Markovic
Ilic
Dukic
Vukovic
Simic
Radic
Nikolic
Maric
Mitrovic
Tomic
Bozic
Dimitrov/Dimitrova
Dimitrova/Dimitrov
Petrov/Petrova
Ivanov/Ivanova
Stoyanov/Stoyanova
Stefanov/Stefanova
Boyanov/Boyanova
Trifonov/Trifonova
Sofiyanski/Sofiyanskia
Tasev/Taseva
Metodiev/Metodieva
Katzarov/Katzarova
Iliev/Ilieva
Gospodinov/Gospodinova
Apostolov/Apostolova
Hristov/Hristova
Hasanov/Hasanova
Nikolov/Nikolova
Bojidarov/Bojidarova
Stoichkov/Stoichkova
Lechkov/Lechkova
Yanev/Yaneva
Yankov/Yankova
Stoev/Stoeva
Konstantinov/Konstantinova
Grigorov/Grigorova
Gruev/Grueva
Georgiev/Georgieva
Kremenliev/Kremenlieva
Mihaylov/Mihaylova
Gonzalez
Rodriguez
Hernandez
Perez
Garcia
Santana
Diaz
Suarez
Sanchez
Lopez
Cabrera
Ramos
Medina
Fernandez
Morales
Delgado
Marrero
Leon
Alonso
Herrera
Cruz
Dominguez
Gutierrez
Reyes
Torres
Alvarez
Rivero
Armas
Trujillo
Horvat
Novak
Juric
Kovacic
Matic
Kovac
Pavlovic
Blazevic
Grgic
Pavic
Peric
Filipovic
Saric
Lovric
Vidovic
Perkovic
Bosnjak
Jukic
Barisic
Novak/Novakova
Svoboda/Svobodova
Novotny/Novotna
Dvorak/Dvorakova
Cerny/Cerna
Prochazka/Prochazkova
Kucera/Kucerova
Vesely/Vesela
Horak/Horakova
Nemec/Nemcova
Jensen
Nielsen
Hansen
Pedersen
Andersen
Christensen
Larsen
Sorensen
Rasmussen
Jorgensen
Petersen
Madsen
Kristensen
Olsen
Thomsen
Christiansen
Poulsen
Johansen
Moller
Knudsen
Tamm
Saar
Sepp
Magi
Kask
Kukk
Rebane
Ilves
Parn
Koppel
Smirnov
Vassiljev
Petrov
Kuznetsov
Mihhailov
Pavlov
Semjonov
Andrejev
Aleksejev
Joensen
Jacobsen
Johannesen
Simonsen
Djurhuus
Danielsen
Mortensen
Mikkelsen
Dam
Hojgaard
Andreasen
Korhonen
Virtanen
Makinen
Nieminen
Makela
Hamalainen
Laine
Heikkinen
Koskinen
Jarvinen
Lehtonen
Lehtinen
Saarinen
Salminen
Heinonen
Niemi
Heikkila
Salonen
Kinnunen
Turunen
Salo
Laitinen
Tuominen
Rantanen
Karjalainen
Jokinen
Mattila
Savolainen
Lahtinen
Ahonen
Johansson
Nyman
Lindholm
Karlsson
Andersson
Bernard
Thomas
Robert
Richard
Petit
Durand
Leroy
Moreau
Laurent
Lefebvre
Michel
David
Bertrand
Roux
Vincent
Fournier
Morel
Girard
Andre
Lefevre
Mercier
Bonnet
Francois
Martinez
Beridze
Kapanadze
Gelashvili
Maisuradze
Giorgadze
Lomidze
Tsiklauri
Bolkvadze
Kvaratskhelia
Nozadze
Khutsishvili
Shengelia
Abuladze
Mikeladze
Tabatadze
Mchedlishvili
Bairamov
Gogoladze
Schneider
Meyer
Schulz
Becker
Hoffmann
Nagy
Kovacs
Toth
Szabo
Horvath
Varga
Kiss
Molnar
Nemeth
Farkas
Balogh
Papp
Takacs
Juhasz
Lakatos
Meszaros
Olah
Racz
Fekete
Murphy
Sullivan
Walsh
Smith
Brien
Byrne
Ryan
Connor
Neill
Reilly
Doyle
McCarthy
Gallagher
Doherty
Kennedy
Lynch
Murray
Quinn
Moore
Rossi
Russo
Ferrari
Esposito
Bianchi
Romano
Colombo
Ricci
Marino
Greco
Bruno
Gallo
Conti
Costa
Giordano
Mancini
Rizzo
Lombardi
Moretti
Krasniqi
Gashi
Berisha
Shala
Muhaxheri
Kelmendi
Thaci
Maloku
Rrahmani
Ibrahimi
Nallbani
Gjakova
Morina
Cocaj
Vllasaliu
Dervisholli
Tolaj
Gjelaj
Mujaj
Berzins
Kalnins
Ozolins
Jansons
Ozols
Liepins
Krumins
Balodis
Eglitis
Zarins
Petersons
Vitols
Klavins
Karklins
Vanags
Kazlauskas
Petrauskas
Jankauskas
Stankevicius
Vasiliauskas
Zukauskas
Butkus
Paulauskas
Urbonas
Kavaliauskas
Borg
Camilleri
Vella
Farrugia
Zammit
Galea
Micallef
Grech
Attard
Spiteri
Angelovski
Janevski
Cvetkovski
Donevski
Markovski
Popovski
Ivanovski
Brankovski
Andovski
Arsovski
Bogdanovski
Boskovski
Bozinovski
Davidovski
Dimitrovski
Filipovski
Gorgievski
Kostovski
Kitanovski
Matovski
Manasievski
Mladenovski
Petkovski
Ristevski
Trajanovski
DeJong
Jansen
DeVries
VanDijk
Bakker
Janssen
Visser
Smit
Meijer
DeBoer
Mulder
DeGroot
Bos
Vos
Peters
Hendriks
VanLeeuwen
Dekker
Brouwer
DeWit
Dijkstra
Smits
DeGraaf
VanderMeer
Nilsen
Kristiansen
Karlsen
Johnsen
Pettersen
Eriksen
Berg
Haugen
Hagen
Johannessen
Andreassen
Halvorsen
Nowak
Kowalski/Kowalska
Wisniewski/Wisniewska
Wojcik
Kowalczyk
Kaminski/Kaminska
Lewandowski/Lewandowska
Zielinski/Zielinska
Szymanski/Szymanska
Wozniak
Dabrowski/Dabrowska
Kozlowski/Kozlowska
Jankowski/Jankowska
Mazur
Wojciechowski/Wojciechowska
Kwiatkowski/Kwiatkowska
Krawczyk
Kaczmarek
Piotrowski/Piotrowska
Baginski/Baginska
Almeida
Alvares
Andrade
Araujo
Borges
Botelho
Faria
Gomes
Gouveia
Ferreira
Fonseca
Lima
Lopes
Martins
Medeiros
Melo
Mota
Neves
Pena
Pereira
Silva
Sousa
Teixeira
Vaz
Popa
Popescu
Ionescu
Barbu
Smirnov/Smirnova
Kuznetsov/Kuznetsova
Popov/Popova
Sokolov/Sokolova
Lebedev
Kozlov/Kozlova
Novikov/Novikova
Morozov/Morozova
Volkov/Volkova
Solovyov/Solovyova
Vasilyev
Zaytsev
Pavlov/Pavlova
Semyonov/Semyonova
Golubev
Vinogradov/Vinogradova
Bogdanov/Bogdanova
Vorobyov/Vorobyova
Milosevic
Todorovic
Stankovic
Stamenkovic
Balaz
Balog
Lukac
Krajnc
Zupancic
Potocnik
Mlakar
Vidmar
Kos
Golob
Turk
Kralj
Zupan
Korosec
Bizjak
Hribar
Kotnik
Rozman
Kavcic
Petek
Kastelic
Kolar
Zagar
Hocevar
Oblak
Kosir
Koren
Klemencic
Gomez
Ruiz
Jimenez
Moreno
Munoz
Romero
Navarro
Gil
Vazquez
Serrano
Blanco
Sanz
Castro
Ortega
Rubio
Molina
Ramirez
Ortiz
Marin
Iglesias
Nilsson
Eriksson
Larsson
Olsson
Persson
Svensson
Gustafsson
Pettersson
Jonsson
Jansson
Hansson
Bengtsson
Petersson
Carlsson
Lindberg
Magnusson
Bernasconi
Fontana
Crivelli
Galli
Cereghetti
Cavadini
Ozturk
Yilmaz
Kaya
Demir
Sahin
Celik
Yildirim
Erdogan
Yazici
Karadag
Melnik
Shevchenko
Boyko
Kovalenko
Bondarenko
Tkachenko
Kovalchuk
Kravchenko
Oliynyk
Shevchuk
Koval
Polishchuk
Bondar
Tkachuk
Moroz
Marchenko
Lisenko
Rudenko
Savchenko
Petrenko
Jones
Taylor
Brown
Williams
Wilson
Johnson
Davies
Robinson
Wright
Thompson
Evans
Walker
White
Roberts
Green
Hall
Wood
Jackson
Clarke
Patel
Khan
Lewis
James
Phillips
Ali
Mason
Mitchell
Rose
Davis
Cox
Alexander
Campbell
Kelly
Johnston
Smyth
O'Neill
Stewart
Graham
McLaughlin
Hamilton
Hughes
Robertson
Thomson
Anderson
Scott
MacDonald
Reid
Clark
Ross
Young
Watson
Paterson
Morrison
Sanders
Morgan
Griffiths
Edwards
Rees
Jenkins
Owen
Price
Moss
Driscoll
Nguyen
Harris
Lee
King
The multi-ethnic character of the countries in the various game versions might be a nod to the ethnic diversity among East European countries, the USSR, the Post-Soviet states, or China.