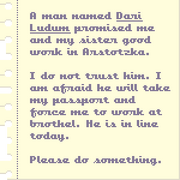 A
note
may refer to:
Notes are papers given to the inspector by people in the Papers Please universe at the Grestin border checkpoint. They can be bribes from people who want to get into Arstrotzka, bribes from people who want their friends/family to get through, tasks from EZIK agents, or useful information from Arstotzkan officials.
Ad blocker interference detected!
Wikia is a free-to-use site that makes money from advertising. We have a modified experience for viewers using ad blockers

Wikia is not accessible if you've made further modifications. Remove the custom ad blocker rule(s) and the page will load as expected.