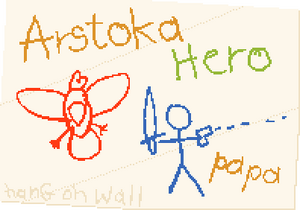 Son's Drawing is a decorative piece for the Inspector's booth. As the name implies, it is a drawing made by the Inspector's son depicting him (labelled "papa") with a sword and firearm along with the Arstotzkan emblem and "Arstoka Hero" written across the top. It is adorable.
If the son is still alive, the inspector gets this masterpiece as gift on day 20 if he buys a birthday gift for the son on day 18. Needless to say, if a scandalous and controversial piece of art like this is hanging on the wall during an inspection by the M.O.A. Director, the inspector will receive a fine at the end of the day.
If the drawing is on the wall on day 25, the third entrant will comment on it.